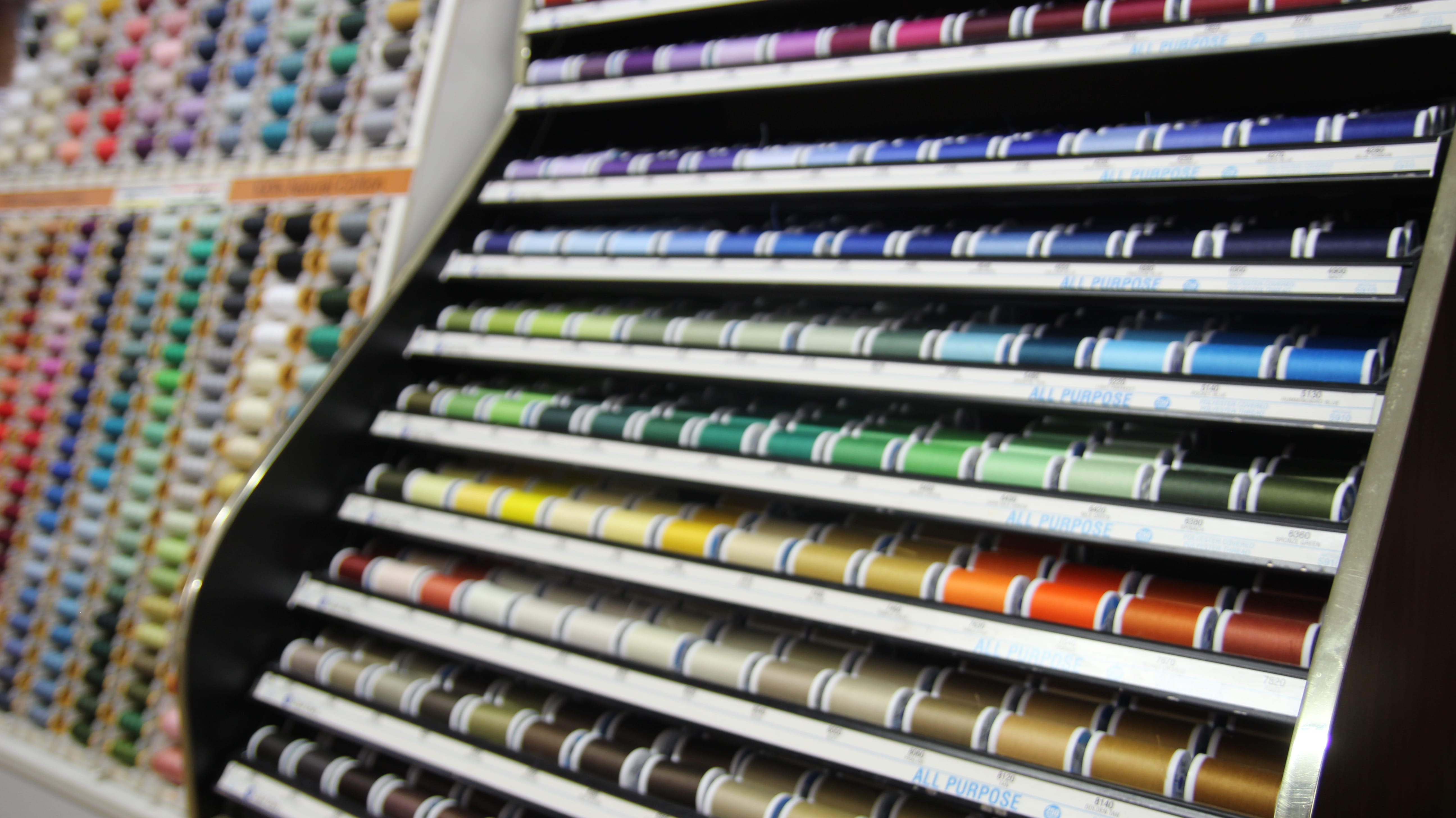 Rulers
"Hex n More"- Cut 4 shapes in 4 sizes- Hexagons, 60 degree triangles, half hexagons, jewels
3 1/2 x 6 1/2 rectangular ruler– handy size for small projects
9 1/2 x 9 1/2 square by "the Cutting Edge" Sharpens your blade with every cut
"Super Sidekick"– Cut 3 shapes in 8 sizes- Diamonds, 60 degree triangles & half triangles
Olfa – 6×24 ruler with great angle marking
Bloc-Loc ruler– help squaring of half square triangles
See our new Creative Grid Rulers
7″ Fiskar scissors-New
New "Creative Grid Rulers" are here in 3 different sizes
Missouri Star Rulers: We have some new rulers from Missouri Star.
The Strip Tube Ruler and The Strip Tube Junior Ruler by Cozy Quilt Designs, are on our notions wall.
If your hands get dry and chapped like ours do, try our "Gloves in a Bottle" Shielding Lotion. It seals your hands as if you had an invisible glove on, but does not leave hands feeling greasy.
Several Multi-colored Threads by Coats & Clark and Gutermann. Polyester and 100% cotton.
Quilt Soap– for washing your quilts delicately
Flour Sack Towels for embroidery
Don't forget about "Best Press" for all your pressing needs.
Where can you buy a pattern BOOK for $5.99 or $6.99 and get 10 quilt patterns? Missouri Star Quilt Books are very nice, simple patterns with good instructions!
We also have "Stitched Together" stories for the Quilter's Soul Volumes 1, 2, & 3.
"Little Woolies", "The Cowgirls", and "Rubber Ducky" Patterns can be made separately or put them all together for a cute wallhanging. Picture and instructions included. They are quick and easy with simple piecing, quilting as you go, and raw-edge fusible web applique.
"Chenille-It" – This pattern shows you how to make a "Dream Pillow" with chenille strips!!
Yesterday's Charm is here with 2 new embroidery patterns: "Snowman Wonderland" and "Bluebirds" – Days of the Week. Many uses – aprons, quilts, towels, etc.
"A Barnyard Christmas" This pre-fused, laser-cut kit includes all fused and laser cut applique shapes. Plus fabrics for the floor, wall, sky and posts. You'll need to supply borders, backing and batting. So very cute with the precious little animals. Need to see to appreciate!
New "Retro Stripe Towels" to embroider on. Comes in a package of 3, 18″ x 28″ Already hemmed.
Check out our books on making quilts from T-shirts, ties, photos and more!
"Quilt Barns and Bridges" – by Karen Combs Studio. Perfect for the intermediate quilter! You won't believe how easy it is to create amazing quilts! No templates needed!
"Quilt-As-You-Go" Patterns on batting. You can make placemats, totes, bibs, mug rugs, wallhangings as well as cute dog and cat sayings!
Atkinson Designs- "Snack Shack Hot Pads- Campers Design!" Chennille.
Patahabilities- "On The Farm"– season patterns & kits available.
Aunt Marthas – Embroidery Patterns and Booklets– Tea Time, Sunbonnet Days, Kitchen Designs, & European Designs.