WE KNOW FABRICS
Would you like to know more about them?
"Lord is My Shepherd" – Panel – Nice Winter Scene
"Sing Your Song" – Blue Queen Quilt
"Friendship Song" – Quilt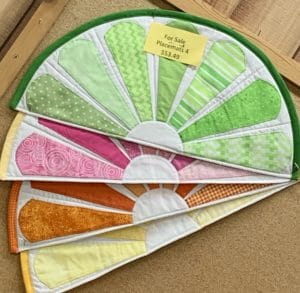 "Dresden Citrus Fruit Salad" – Placemats, centerpieces, and accent pillows
Other New Fabrics:
"Shannon" – New colors in Cuddle Fur.  Verrrrrry Sofffffft!!
"Speckles" – Bright dots in colorful backgrounds!
"Homestead Retreat" – Natures beautiful fall colors by Benartex!!
"All the Trimmings" – A red/white and a green/white fabric of diagonal stripes.
"A to Z Animals" – Just like it says: animals with alphabet and co-ordinating print   
"Collies" – Pups to full-grown on gray background.
"Four Seasons" – new Farmall prints by Print Concepts.
"Holiday Plaids" – in reds and greens with gold metallic
"Husker Fleece" – A new piece in fleece is here!
More NEW Batiks
Benartex has come out with fabrics featuring some of Terry Redlin prints! Beautiful!!!
Panels!!!  We have gotten many new panels.  There is something for everyone!! "Country Pasttime" for fall; "The Lord is My Shepherd" – winter scene; and "Christmas Fun Panel" – Old pickup truck in a winter scene.
"Americana prints" – by Northcott.  One red, white and blue geometric designs, wide backing, one navy blue wide backing and 1 – 42″-44″ striped Americana print.
"Soft Time Books" – New fabric books for your little ones: "Go to Sleepy Little Sheepy", "Miss Kitty's Colors", "Tool Time", and "Noah's Ark".  Many to pick from.
"Maze" – by Kaufman in grays and tans.
"Space" – Kaufman has three different background colors with outer space items!
Wilmington Prints – has an outdoor scene in the snow.  One border print coordinates with it.
Hoffman Fabrics – has "Birds in Snow" in grays, blacks and red on cream background.  Two new Poinsettia prints available. "Big Dream Print" of small squares!!
"Aurora Borealis" and "Painted Forest" – by McKenna Ryan from Hoffman Fabrics.
"Bejeweled" – Soft pastel colors by Maywood Studios
"Northern Lights" – with bear panel
"Fresh Catch" – Fishing equipment
New Jelly Rolls that we have added to fabrics we already mentioned.
More "108" fabrics – stars, dots in red, blue and black along with others.
."Jelly Roll Basics" – Blacks, whites, reds and grays in a bundle. Also, multi-color bundles. Maywood Studio.
REMEMBER:  We have "Lots of Dots" for all your sewing needs!
"Shannon" – New colors in Cuddle Fur.  Verrrrrry Sofffffft!!